Blog A High Tech Promotional Idea You Can Use to Grow Your Small Business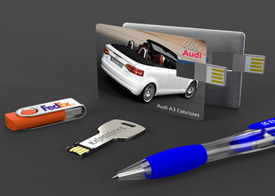 According to several recent surveys, the recent recession has taken a toll on small businesses.
Earnings have been dismal, forcing many small businesses such as car dealers, small retailers, and restaurants to close their shops.
For businesses that are still trying to stay afloat, finding creative and cost effective promotional ideas to promote their businesses is necessary to help them stay in business.
Enter promotional gifts. Branded promotional gifts have been a popular promotional tool for many businesses for some time. Some of you probably have received one or more of these in the past, which could be fridge magnets, baseball caps, mugs, frisbees, water bottles, T-shirts, pens…
Some of these can be tacky and quite useless, with most of them ending up in the trash bins after consumers take them home.
Why Branded USB Devices Have Become Popular Promotional Tools
In recent years, lots of companies are turning to branded USB flash drives and USB cards (which resemble a credit card) as a cost effective and innovative promotional method to spread awareness of their brands and impress their customers. And these custom USB flash drives are a big hit with consumers!
Why do consumers love them so much? Well, they look cool and have great value! As the USB-enabled electronic devices become ubiquitous, their uses have grown significantly.
These compact tech gadgets, which easily fit on your key ring or in your wallet, can be used to store music, videos, photos, or other digital files. They come in different styles, colors, and storage capacities. The storage capacities typically range from 2 gigabytes up to 64 gigabytes.
Different models of USB flash drives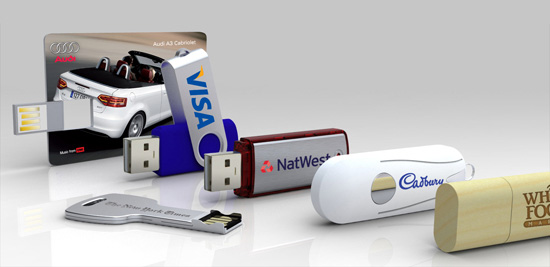 Anytime consumers use them, your company's logo is prominently visible to their friends, family members, or anyone that are around when they use them to download music, transfer a file, or save a file. And since these devices generally work for up to 10 years, your brand get free advertising for a long time.
Tips for Small Businesses
Branded USB flash devices have proven to be successful promotional tools for big corporations. And since the prices are quite low, small businesses should consider using them as promotional tools.
You can hand them out as gifts to your loyal customers, advertise to prospects, or as incentives to encourage customers to fill out surveys.
Below are some tips to help small businesses run a successful branded USB promotional campaign:
Use bright colored designs to grab people's attention.
Print your business's logo or name prominently on the device. You can also include your business website and twitter or facebook URLs.
To add pizzazz to your promotion, you may also include stylish packaging and accessories.
Use the auto-run feature to deliver a pre-loaded marketing message, presentation, coupons, or other promotional offers. You can pre-load a video, slide presentation, or other content.
As you can see, using branded USB devices is a powerful promotional method to build your business brand and win customer loyalty.
Share Your Story
Have you used promotional USB flash drives to promote your business recently? Do you have any other cost effective ideas to help small businesses market their businesses and attract new customers? Please share your stories/ideas below!