Blog Our new SMT line arrives by crane
Today was a big day at the factory as our new SMT line just arrived!
So what is an SMT line?
SMT is an abbreviation for 'Surface Mount Technology' and our SMT line is made of various machines which work together in a line. You may have seen glimpses of such machines in news footage of hi-tech manufacturing facilities.
What does it do?
Essentially it's a long machine, hundreds of different components on reels are fed in one end and circuit boards come out of the other end with components mounted all over them. A lightening fast mechanical arm solders the components onto the PCB in the blink of an eye (PCB stands for 'printed circuit board' - it's the green board thing you see when you open up an electronic device). Of course, in our case we use these SMT lines to make the functional part of a Flash Drive, before it gets covered in a beautiful shell.
How big is it?
It weighs a good few tonnes so we had to hire a massive crane to get it into our factory.
What's the big deal about this then?
Well, SMT lines cost about the same as a pretty pricey 6 bedroom house, so it was quite an investment by any standard, but an investment which is immediately translating into efficiency and quality gains, something we can pass on to our customers. We already had a couple of SMT lines but this new one is a real speedy ninja.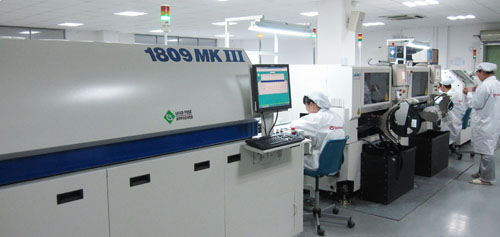 Firing up the new SMT line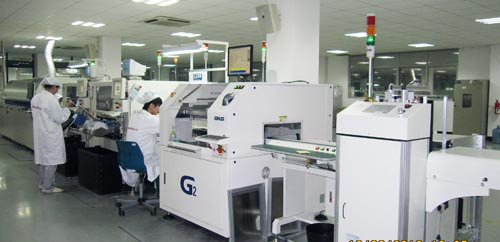 A couple of hours later everything is working smoothly
Fresh from the line: A Flash Drive PCB next to some Samsung and Hynix NAND flash chips

Author: James Appleton